Way back in August I spent one sunny weekend baking for the Whisk team. I decided to bake one of the recipes that became a favourite of mine during the summer I spent at Honeybuns – the Heathcliffe Brownie. In my opinion (and voiced by many members of the Whisk team!) this is the most indulgent, seriously chocolatey brownie I have ever come across. Since August, I have been repeatedly badgered to make these brownies again so I thought it was about time I shared the recipe.
The recipe is taken from the Honeybuns Gluten Free Baking book by Emma Goss-Custard, published by Pavilion.
Heathcliffe Brownies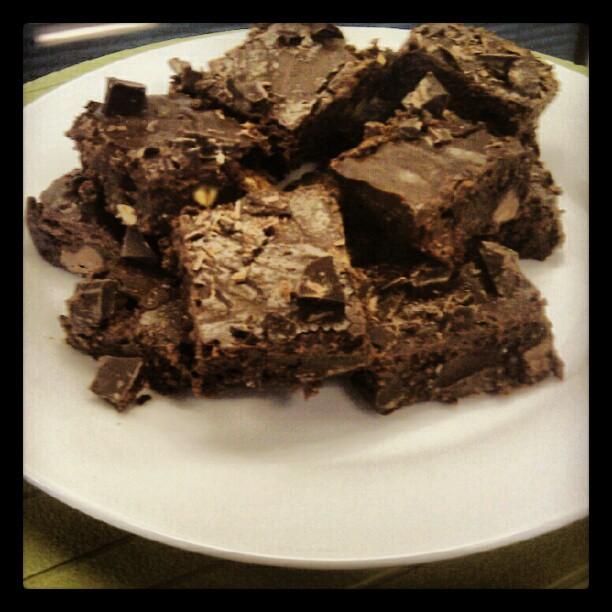 Ingredients
175g/6oz butter, plus extra, melted for brushing
400g/14oz dark chocolate, chopped
1 tsp espresso coffee power or granules dissolved in 1-2 tsp hot water
Finely grated zest of 1 orange
1 tsp orange oil
4 eggs
100g/3½oz ground almonds
125g/4½oz milk chocolate, chopped
150g/5½oz muscovado sugar
85g/3oz almonds, toasted and chopped
Pinch of salt
2 drops of vanilla extract
Topping
250g/9 oz dark chocolate, cut into chunks
1 tbsp olive oil
1 tsp orange oil
Preheat the oven to 180oC/350oF/Gas 4. Cut a rectangle of baking parchment to line the bottom of a 30 x 23 x 4 cm/12 x 9 x 1½ in baking tin. Pop the parchment into the tin and brush the tin with melted butter.
Melt the butter with 200g/7oz of the dark chocolate in a heatproof bowl and set over a saucepan of gently simmering water, stirring until smooth (alternatively I chose to pop into the microwave for approx 2 minutes). Stir in the dissolved coffee. All the mixture to cool slightly and then stir in the orange zest and orange oil.
Crack the eggs into a clean mixing bowl, then add the ground almonds, milk chocolate chunks and the remaining 200g/7oz of dark chocolate, the muscovado sugar, chopped almonds, salt and vanilla. Finally, pour in the melted butter-and-chocolate mixture. Using an electric mixer, beat at medium speed until creamy and thickened, but don't overmix as too much air will cause the brownie to crumble when baked.
Spoon the mixture into the tin and bake for 25-28 minutes. Take care not to overbake. The brownie is ready when the edges are slightly crusty and the middle is still soft, but with a firmish 'skin'. Allow to cool for 1 hour.
For the topping, melt 150g/5½oz of the chocolate with the olive oil and orange oil in a heatproof bowl set over a saucepan of gently simmering water, stirring until smooth (again I chose to do this in the microwave to save time). Spread this over the brownie. Scatter the remaining 100g/3½oz of chocolate over the top and leave to set for 2 hours. Cut into pieces.